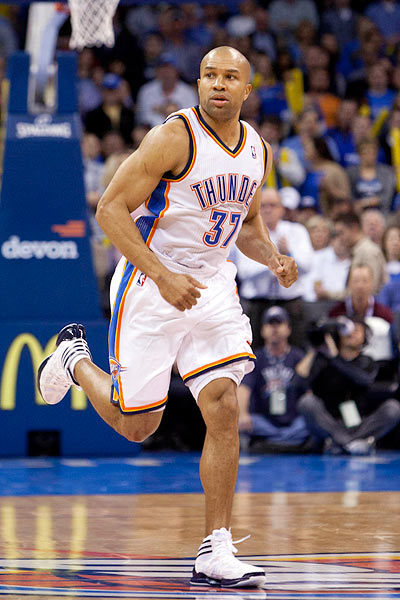 It's a little off-topic, but it's interesting to me to see the issues being raised in a dispute between National Basketball Players Association president Derek Fisher on the one hand, and the union's executive committee along with executive director Billy Hunter on the other. Veiled recriminations are flying back and forth in the wake of last year's lockout and subsequent settlement with the league.
The executive committee voted unanimously to demand Fisher's resignation for unspecified "conduct detrimental to the union." Fisher, who has two years left in his term, refused and is demanding an independent audit of the union's finances. There is some question as to whether there is any mechanism in the union constitution to oust the president.
On one side there is the perception that Fisher conducted back-channel negotiations with the owners during the lockout, to the detriment of the players' negotiating position. On the other side there is the perception that Hunter is running the union as his personal fiefdom and has put too many relatives on the payroll.
Now that the lockout is over, the players are generally apathetic about the union's operations – a familiar sentiment among rank-and-file – but those who have commented seem supportive of an audit, including Los Angeles Lakers star Kobe Bryant.
As you might imagine, the NBPA is an unusual kind of union, with only 427 members, virtually all of whom are multi-millionaires. Union dues are $10,000 annually but account for only a small portion of the association's revenues. More than half of dues income is needed just to cover Hunter's $2.4 million annual salary.
Any financial mismanagement or chicanery would be of the petty variety, unless it involves the pension fund, which, if I read the financial documents correctly, holds over $131 million.
Both sides are chattering about transparency, which makes me think everyone has something to hide.