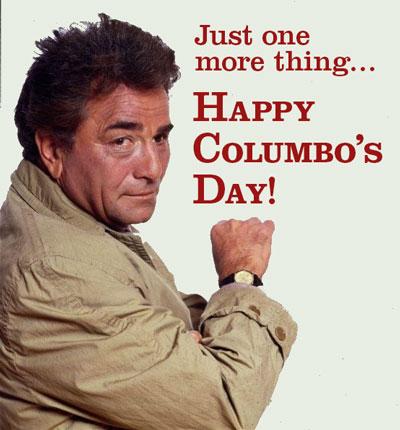 Editor's Note: This went over pretty well last year so I'm repeating it for new readers.
Tired of all the controversy about Columbus Day when all you really want is a day off? Is it too much to balance the competing interests of indigenous peoples and Italian-Americans? Want to keep everyone happy?
Here's the solution: Columbo's Day!
Columbo was Italian, genial and never harmed a Native American. Even better, in his version of Los Angeles, all the criminals were rich white people. He never carried a gun, and, fortunately, none of the murderers he apprehended ever pulled one on him. Heck, they never even tried to run, but went meekly into custody.
Oh, just one more thing, Daily Kos has been on board for a year.
So enjoy Columbo's Day and don't forget to take Dog for a walk.